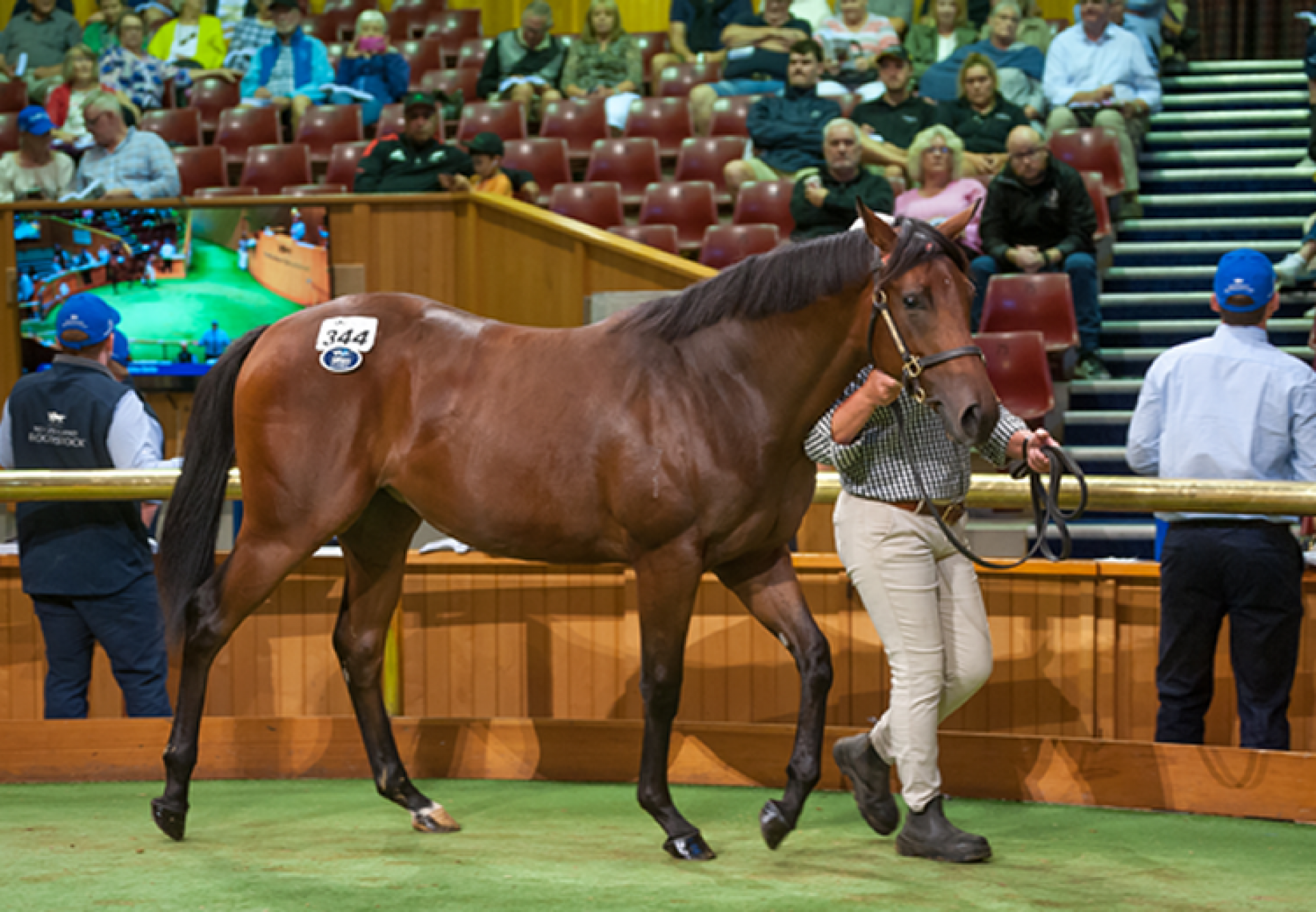 $500,000 for Pierro Half-Sister to Melody Belle
Pierro sired the highest priced filly sold during the second session of the NZB National Yearling Sale Book 1 on Monday with his quality filly from Meleka Belle selling for $500,000.
Consigned by Haunui Farm, the filly was secured by Tim Stakemire on behalf of Sheikh Mohammed bin Khalifa al Maktoum and will be trained by Annabel Neasham.
The filly is a half-sister to two time NZ Horse of the Year Melody Belle, a 14 time Group I winner, and to stakes-winner Tutukaka as well as two other winners.
Neasham's Racing Manager Rob Archibald was caught in a bidding duel with Yulong Investment's Mr Zhang, who bought Melody Belle for $2.6million as a broodmare prospect in 2021, but was able to secure the Pierro filly with a final bid of $500,000.
Archibald was in discussions with Tim Stakemire over the phone on Monday morning and offered up lot 344 as one of his picks of the sale.
"We were talking with Tim Stakemire, and his client Sheikh Khalifa, and he asked if there were any nice fillies in the sale," Archibald said.
"We went through a few numbers and we said we particularly liked this one. She is a half to a champion (Melody Belle) and he liked the look of her. We were on the phone and he decided that was the filly for him.
"We loved her and she was one of the fillies of the sale.
"I thought she was a lovely mover, quite strong, but bred to take a little bit of time. She had good presence on the sale ground. I love her movement and think that will take her a long way.
"I think she is above average on what we have seen, just on a physical. She is one of the better physicals of the Pierros that we have seen.
"Sometimes you get to a sale ground and they just stand out, and she stood out to me.
"We loved everything about her and we are excited to get her back into the stable in Sydney."