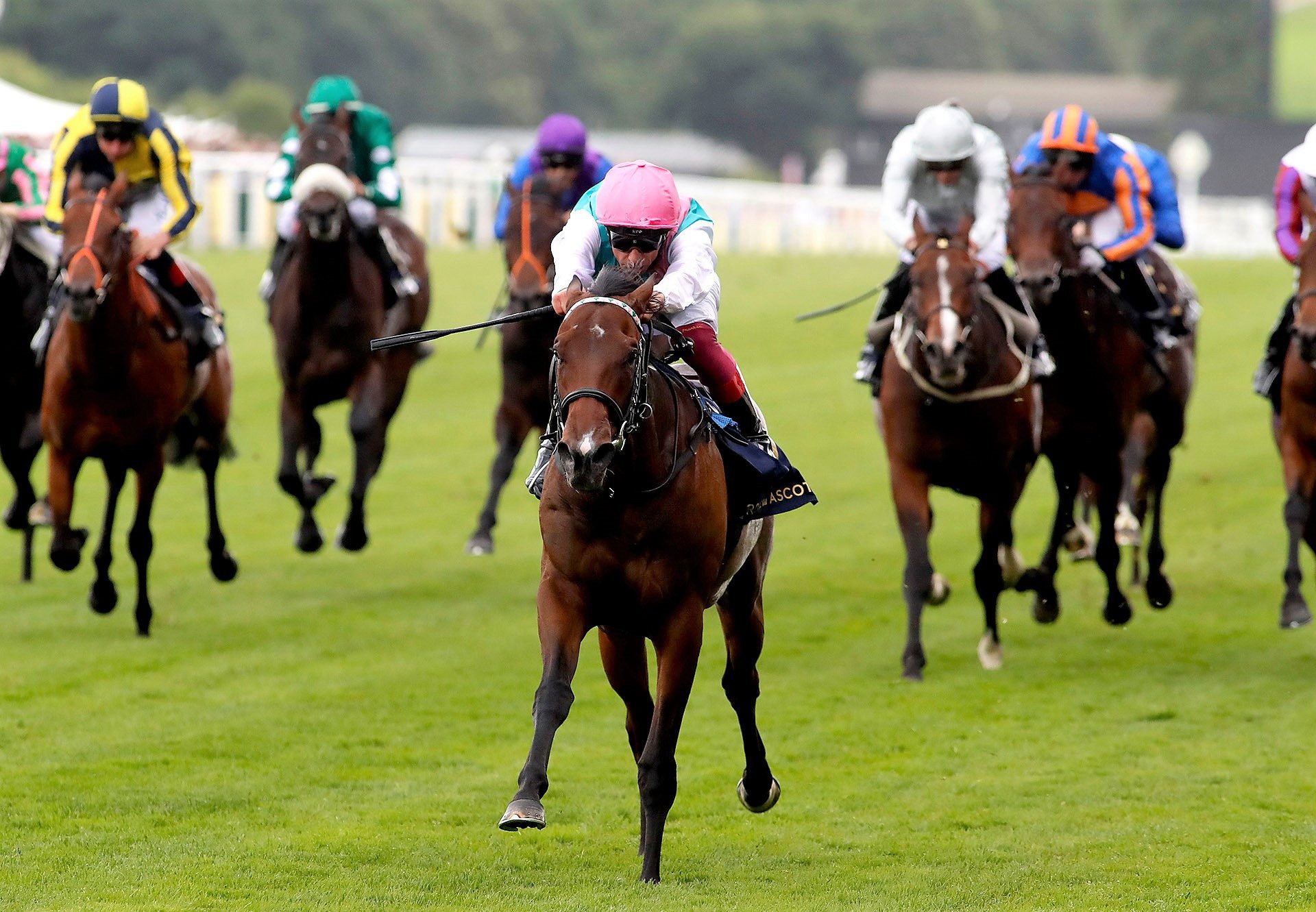 Calyx is making headlines!
"It's early days I know, but Calyx is different from most of these sprint sires, Blue Point excepted, in that he's bred to be a star," wrote Tom Segal in today's Racing Post Weekender.
"Calyx only saw a racetrack four times but he looked a world beater on three of them, and to my eyes he has made just as promising a start at stud. Calyx's daughter Persian Dreamer was seriously impressive at Newmarket last week, and he's yet to have a two-year-old finish out of the first four."
Persian Dreamer earned *TDN Rising Star* status at Newmarket last week for Dominic Ffrench Davis and Amo Racing and is now favourite for the Queen Mary Stakes-Gr.2.
Racing TV's Angus McNae who highlighted subsequent Queen Mary winner Dramatised on The Verdict following an impressive Newmarket maiden last April was equally effusive in his praise and tips Persian Dreamer for Royal Ascot…
"The figures tell you that she is utterly dominant throughout this race and if she hadn't jumped in the air a little bit coming out of the stalls I think she'd have been fastest through that first furlong as well and therefore fastest in very single furlong of the race; totally and utterly dominant… Remember last year here on The Verdict we highlighted Dramatised when she won here at Newmarket and impressed on the sectionals. This filly has done just that as well… we were keen on Dramatised last year, she won that Queen Mary, I think this filly can do exactly the same."
Watch the full clip below
Persian Dreamer was purchased for €145,000 at last year's Goffs Orby from Whitehall Stud who consigned her on behalf of US breeder Adam Bowden of Diamond Creek Farm.
Meanwhile, Calyx is also proving popular at the Breeze Up Sales.
At Newmarket's Craven Sale last week, a colt from Thomond O'Mara's Knockanglass Stables was secured for 140,000gns by leading syndicate operation Middleham Park Racing who enthused:
"We had 3 naps, derived from watching the 174 breezes of the world's leading Breeze Up Sale, at Tattersalls, Newmarket, earlier this week. All three had word "fastest" about them. The first was "the fastest filly" - she sold for 210,000gns - the second was "the fastest overall" who sold for a whopping 625,000gns, and the third was this Calyx colt, who claimed "the fastest finisher's spot."
The colt, out of Bereka, will go into training with Richard Fahey who commented "the colt's consignor Thomond O'Mara has been telling me for weeks and weeks that this is his best horse and is worthy of racing at Royal Ascot."
Watch his breeze below
Then at Doncaster yesterday two more colts brought six figure sums.
One sold for £160,000 from Tally Ho Stud to Richard Brown of Blandford Bloodstock who said "He did a very good breeze and is a very good looking individual. I think Calyx has all the credentials to make it as a sire."
Another was purchased for 125,000gns from Yeomanstown Stud by agent Stephen Hillen on behalf of MV Magnier. Hillen has been seriously impressed by what he's seen in the past week….
"It's very, very unusual, they all look like they can run. They've all breezed well: head down, professional with big stride and clocked well. Obviously Calyx was a seriously good two-year-old, he won the Coventry very, very easily and it looks like he's passing on that precocity"
Watch the full interview below
This early success for Calyx will probably come as no surprise to many including his trainer John Gosden.

"Calyx had that rare brilliance you only see in champions," said the Newmarket trainer of his charge. "He is a very similar type to his sire Kingman."
Calyx was the first TDN Rising Star and first Royal Ascot winner for his sire Kingman who now stands for £125,000.
If you think Calyx's first TDN Rising Star Persian Dreamer will follow suit, now is the time to give us a call!