Coolmore Australia Blog - Paddy Oman - Sales and Nominations
The five days of Royal Ascot are like nothing I have ever experienced.
It's an occasion with the intensity of an Ashes Test, but with so many more characters to get your attention across 30 races than just the 22 players in a cricket match. The atmosphere rivals that of an AFL Grand Final, but it's spread over five consecutive days. I don't think I'll ever get used to wearing a morning suit and for 360 days of the year you can leave me out of wearing a top hat (as you can see from the photo, I wear it well!). But, Ascot is different and I'm already thinking ahead to next year and what colour waistcoat I'm going to choose!
As an experience, there are so many things to take away from my trip to Royal Ascot and while I expected to see plenty of Australian visitors, I was shocked at quite how many were in attendance.
Obviously it's a spectacular social event, but there would appear to be an ever growing band of Australians associated with the racing itself which highlights even further the continued internationalisation of the bloodstock industry.
There were a number of Australian-trained runners of course, but as well as that, there were 2 Australian-owned runners in the newly formed Gr.1 Commonwealth Cup (Europe's answer to the Coolmore Stud Stakes – it's surely only a matter of time before a quality Australian two year-old embraces the challenge of taking on the European three year-old sprinters in a race like this) while a bunch of runners through the week are sure to make their way to our shores in time to tackle some of Australia's best races next season, with the Melbourne Cup being an obvious draw card.
It's fair to say that results at Ascot can have resonance around the world.
Take the Listed Sandringham Stakes on day one for three year-old fillies, which was won by Danehill Dancer's daughter Osaila. Her yearling ¾ sister by Fastnet Rock out of Mennetou, was sold in Sydney at the Inglis Easter Yearling Sale for $1.3m, and that was before she was a sibling to a Royal Ascot winner.
What's she worth now!?
And surely there wasn't a happier man on Saturday night than Peter Ford following the win of Snow Sky in the Gr.2 Hardwicke Stakes. Fordy purchased his half-sister Silent Eyes, by the great Montjeu, for just 9,000gns at Tattersalls 5 years ago before shipping her to Australia.
There's no doubt that mares like these are making the Australian breeding landscape a better place.
It was a pleasure to see some incredible horses at Royal Ascot. I was lucky enough to be within earshot of the great Ryan Moore when he was discussing Gleneagles at end of the first day following his effortless win in the Gr.1 St James' Palace Stakes (he doesn't say much, but when he speaks, you're well advised to listen!).
He seemed genuinely in awe of the ease with which he was rising to the challenges posed to him and consistently hammering his rivals. He's been quite aggressively campaigned through his career to date, running 6 times as a two year-old and winning each of his three starts in Gr.1's as a three year-old, but he just seems to be getting better and better, as most of the progeny of Galileo do. Inevitably, every son of Galileo is compared to the mighty Frankel, but it's probably fair to say that Gleneagles is doing a pretty credible impersonation of the great horse at the moment.
I've always been a big fan of Zoffany (I have, honestly…) and while I didn't quite get the volume of 'thank you' messages from breeders that I've steered in to him in recent years that I had expected, I did find my phone running hot from Tuesday evening with new 'friends' who were 'interested' in him!
On a serious note, it's a remarkable achievement for a young horse to do what he did at Ascot, especially considering the fact that those winners were conceived at €7,500.
He looks to have a very bright future as a sire and it will be interesting to see how his first two year-olds perform in Australasia. What odds are there on Excelebration repeating the dose with his first two year-olds next season (his first European crop was conceived at €22,500)!?
While the potency and prominence of Danehill in Australia is well documented (the 72 Gr.1's in Australia during the 2014/15 season were won by 61 different horses, 33 of whom – 54% - feature Danehill in their pedigree), I hadn't quite realised that the scale of his impact was just as obvious in Europe.
While Sadler's Wells carries the title of the most influential stallion of the modern era in the Northern Hemisphere (he featured in the pedigrees of 11 of the 23 Royal Ascot stakes winners), Danehill popped-up with almost Australia-like regularity in the pedigrees of 12 of the 23 stakes winners through the week (52%).
The elder statesmen of our office (yes, Michael and Colm) still refer to a time when inbreeding to Danzig was considered a 'no-go', but that school of thought has gone out the window and this season alone, Dissident, Brazen Beau and Pasadena Girl are examples of Gr.1 winners inbred to Danzig. At what point do you reach too much of a good thing? Maybe never according to the results – 20 of the 23 stakes winners at Ascot were inbred to Northern Dancer within 5 generations.
I haven't been to Coolmore in Ireland for many years, so it was great to make a post-Ascot visit and spend some time shooting the breeze with Harry King who has been a manager of Coolmore since the very start.
It's hard to think of too many people that have been associated with the rearing of more good horses than Harry, but he's a man of few words!
So needless to say I noted his enthusiasm for the Declaration Of War foals on the farm. His sire War Front (by Danzig) isn't a household name in Australasia, but what he's achieved from limited opportunities to date (he has 14% stakes winners to runners from his first 5 crops, all conceived at fees of $15,000 or less) is staggering and Declaration Of War was a pretty special racehorse.
Those who have seen him will know that he's a particularly good looking animal and it's reassuring to see him really 'stamp' his foals. They are big and strong with good bone, which bodes well for down here. There is no interest like self-interest, so I'm certainly hoping that the mare I have in-foal to him has a cracker!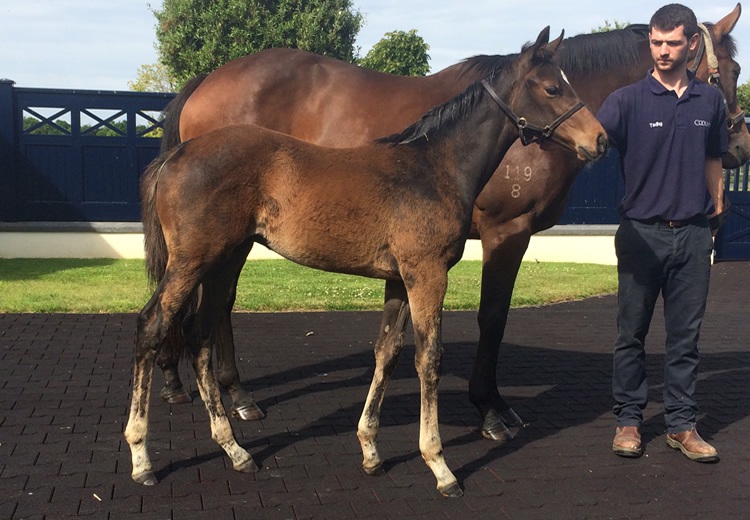 There is a select group of quality Australian racemares in Europe with the intention of them being bred to Galileo.
It's a belief that was latched on to quite early on, that a marriage between Galileo and daughters of Fastnet Rock (or the same in reverse) could be something of a goldmine – Galileo's quality allied with the strength, speed and power of Fastnet Rock – and so it's proving (Qualify, Magicool etc.), so it's very exciting to think what might be produced by the likes of Atlantic Jewel, Sea Siren and Nechita up there.
Atlantic Jewel's colt foal (pictured) is a star as you'd expect ('Lucky' Laurie Macri strikes again)!
Those of you who know me will know that I hate writing (my typing isn't too flash either).
But, if it means I get to go back to Ascot next year, I'm happy to keep on writing for as long as anybody wants me to!
In the meantime, I'll be hoping that Australia can bounce back from a miserable first-up effort to win The Ashes, while keeping a close eye on my bet with Hutch, who insists that Uncle Mo will sire more two year-old winners from his first crop than Zoffany in the Northern Hemisphere. Zoffany (8) currently leads Uncle Mo (4), but it's a bit too tight for my liking given the stakes!