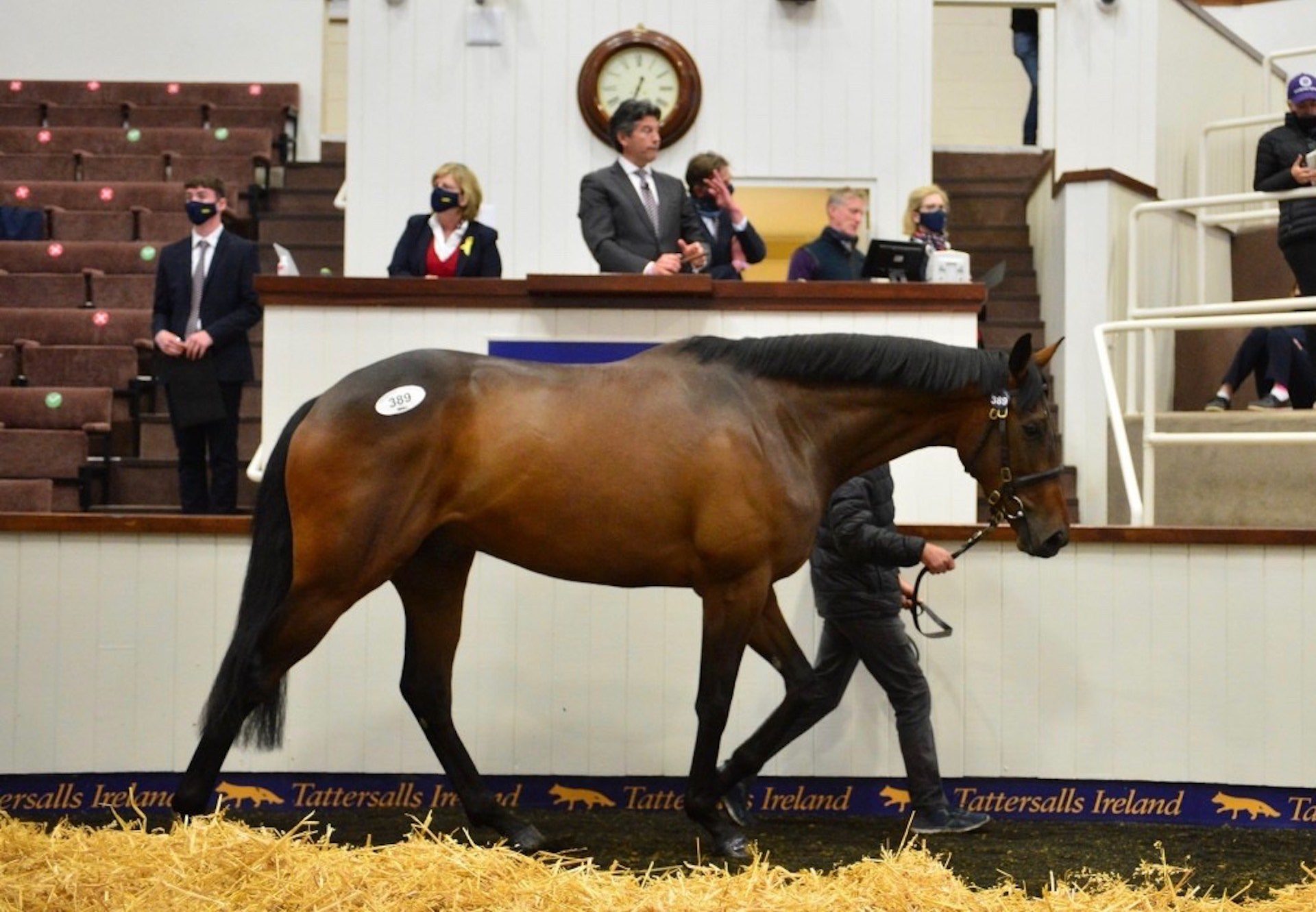 Walk In The Park Dominates Derby Sale
A handsome son of Walk In The Park capped a terrific Derby Sale for the Grange Stud sire when selling for a sales-topping €280,000.
Consigned by Ballincurrig House Stud on behalf of breeder Grange Stud, the eye-catching bay boasted pedigree appeal as a half-brother to Grade 3 hurdler The Bosses Oscar (Oscar). Gerry Hogan made a determined bid for the star offering, but soon gave way to the attentions of MV Magnier, who eventually admitted defeat to Eddie O'Leary, who bid on behalf of Noel and Valerie Moran's Bective Stud.
"He's an absolute king of a physical, by what looks to be a top-class sire" O'Leary later commented. "Gordon already has the half-brother, The Bosses Oscar, and I hope he's half as good as he looks."
Earlier that afternoon, Ballincurrig House Stud enjoyed another successful sale when their Walk In The Park gelding out of Toledana sold to Milestone Stables and Ballyboy Stables for €150,000.
At the 2019 renewal of the Derby Sale, Paul Holden and Michael Shefflin paid a brave €140,000 for the full-brother to Douvan (Walk In The Park) and their faith was rewarded with an impressive debut performance and resulting resale of £570,000.
The pair, along with Jonbon's original trainer Ellmarie Holden, were no doubt encouraged by their previous success when going to €200,000 for the Walk In The Park brother to Hurricane Fly (Montjeu).
After signing the docket, Shefflin said, "This horse is flawless, it was down to the individual at the end of the day and I could not fault him. Hopefully he'll be another Jonbon, he doesn't need to make as much as he did but he does need to make enough!"
Paul Motherway, whose family bred the bay, later said, "We're thrilled, it's a great result for the farm, it's a lot of hard work and it's great when it pays off."
Thursday brought a sense of déjà vu for Richard Frisby's Glenwood Stud, who sold a son of Walk In The Park to Joey Logan for €150,000. Logan gave €220,000 for another Walk In The Park gelding from the same consignor at the recent Goffs Land Rover Sale, and on the sire, he said, "I love the Walk In The Parks; they're good-looking horses that move very well."
Walk In The Park's fifth and final six-figure lot of the sale came when MV Magnier went to €100,000 for Lot 395 from Rathturtin Stud. The Grange Stud resident ended the sale as leading sire, with his progeny fetching a total of €2,452,500 over the two days, bringing an average price of €76,641.