Farm
While the Coolmore operation with which we are familiar today started in earnest in 1975 when John Magnier joined forces with Robert Sangster and Vincent O'Brien, the stud farm now occupied by Coolmore Australia has a history which dates back much further than that. Settled in 1824 by George Bowman and established as 'Arrowfield', this property has a precedent of producing racehorses of the highest quality tracing back over 100 years. The 1920 Melbourne Cup winner Poitrel, champion racehorse and sire Heroic and high-class galloper Manfred are examples of some of the wonderful racehorses bred at the Jerrys Plains property by the Moses brothers during the first quarter of the 20th century.
Coolmore Australia was established at Jerrys Plains in 1996. Located on over 8,000 acres, including 5,000 of irrigated river flats and undulating paddocks, the pastures have been shown by agronomic studies to be amongst the highest quality in Australia. Careful management has ensured that the land continues to provide the optimal conditions for the growth and development of thoroughbreds of the highest quality. Those 'raised and grazed' at Coolmore's stud farm include the likes of Fastnet Rock, Redoute's Choice, Special Harmony, Sea Siren, Vancouver, Pride of Dubai and Winx.
'Home Of Champions' has long been the moniker synonymous with Coolmore. At Coolmore Australia, it's a particularly fitting one.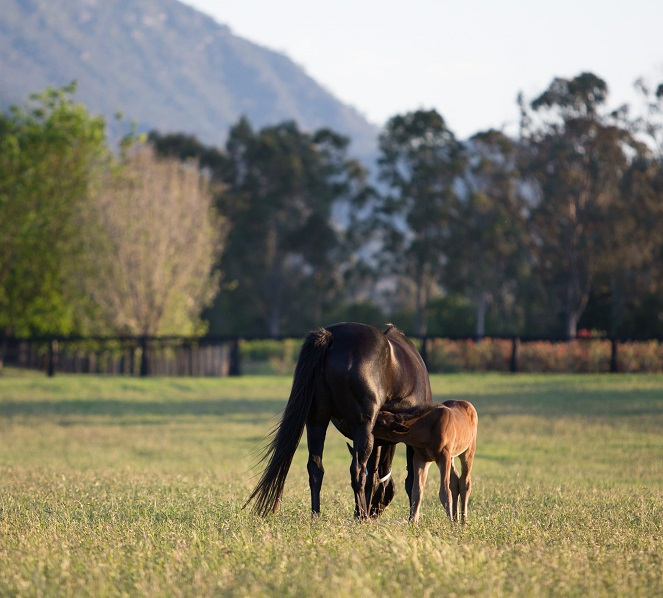 Boarding at Coolmore Australia
Here at Coolmore we pride ourselves on providing the very best service available to clients and their bloodstock.
From the moment your mare arrives, our highly experienced team have one aim – to provide you and your stock with the best possible experience.
From breeding, to foaling, to the weaning process, for the season or full-time, our emphasis is on personalised care and attention.
And our excellent facilities provide the best possible environment for raising thoroughbreds of the highest quality.
Facilities at Coolmore Australia
3 purpose built foaling units encompassing 24 hour supervision.
Resident veterinary care with 4 resident veterinarians during the breeding season.
Our own fleet of equine transport on call 24hrs.
Team of experienced and dedicated staff offering round the clock care.
On-site veterinary hospital with sophisticated laboratory facilities.
Quarantine and isolation facilities.
Close proximity to Scone Equine Hospital.
Expert sales preparation and presentation for the major Australian sales – weanling, yearling and broodmare.
Mares visiting non-Coolmore stallions are also welcome for boarding.
5,000 acres of paddocks fenced with post and rail.
A team of expert farriers.
Experienced pedigree and sales advice.
Luxury client accommodation on site.
Regular reports and photos to keep you up to date on the progress of your stock, whether they are full-time or stud-season boarders.
On-site sales x-ray and scoping facilities.