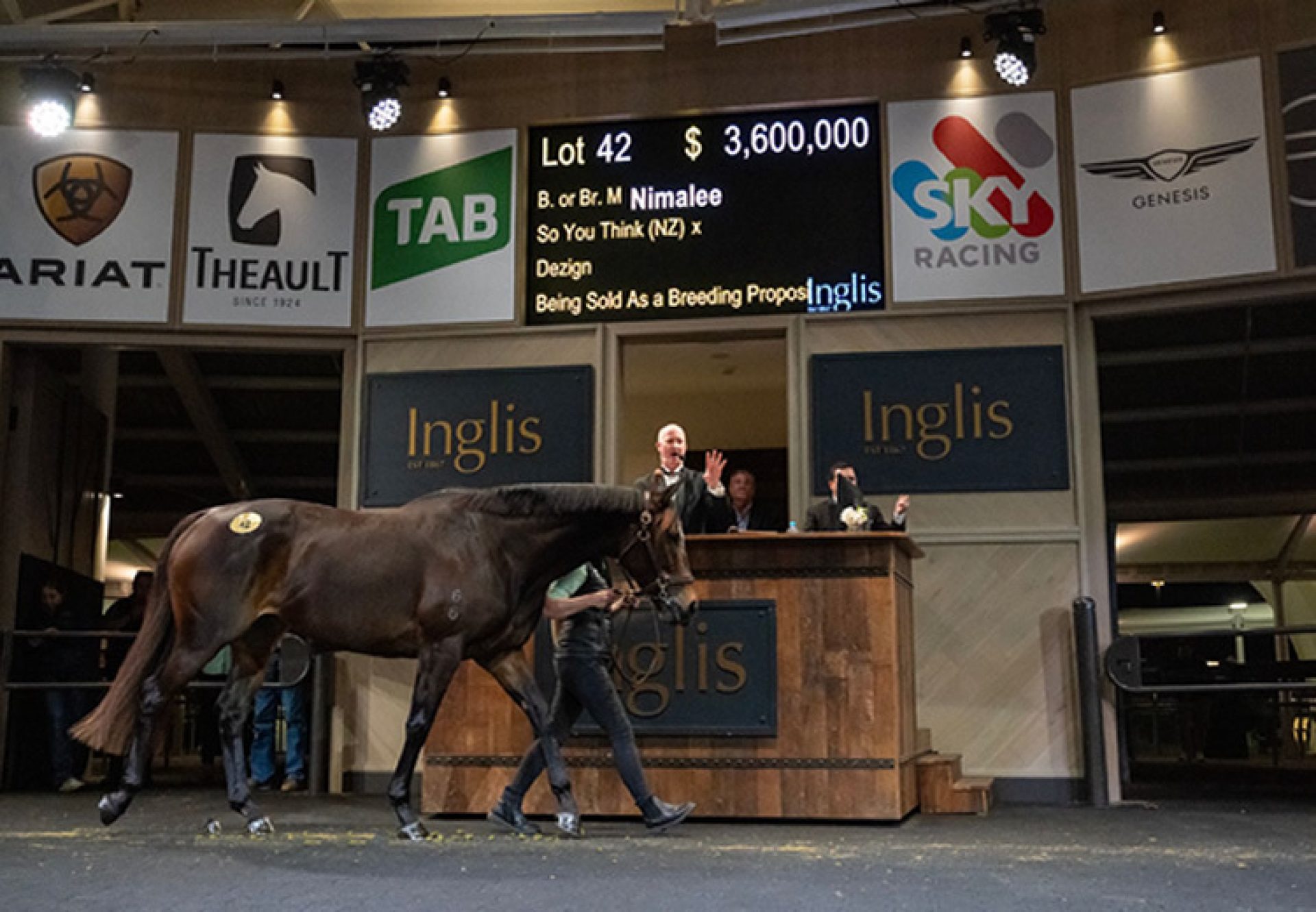 $3.6Million for G1 So You Think Winner Nimalee
The Inglis Chairman's Sale was topped by the Matthew Smith trained Group I ATC Queen of the Turf Stakes winner Nimalee selling for $3.6million.
Consigned by Glenesk Thoroughbreds, Nimalee was bought by Colm Santry Bloodstock/ Coolmore Australia.
Purchased as a yearling for $270,000 from Inglis Premier by Randwick Bloodstock, the daughter of So You Think raced for Lester and Margaret Durney of Letmar Investments and was bred by Cressfield winning eight of 27 starts earning $1.7million.
It was an amazing result for Glenesk's Brett Howard, who purchased Nimalee as a yearling under his Randwick Bloodstock banner.
"It's a staggering result. I'm doing a Chris Waller now,'' an emotional Howard said as he couldn't hold back tears following the sale.
"Inglis has really lifted their game the past few years, you look around this room tonight, they've created a great atmosphere, they've been able to get these elite mares and when you get the elite mares, they get the elite buyers as well.
"I said to [major owner] Lester [Durney] that I think this [Chairman's Sale] is the right sale for her and that's proved to be the case. It's just phenomenal''.
Colm Santry was thrilled to secure Nimalee.
"It's been very tense! We probably didn't think we'd have to dig as deep for her as we did, but the really good ones like her you have to stump up for,'' Santry said.
"The Magniers like to buy the best mares, we valued her and we thought she was the best physical in the sale.
"We can breed her to a lot of stallions on our doorstep, we've got Wootton Bassett, Justify and what a fabulous mating she'll make for Shinzo in time.
"We can really utilise her and what we're really hoping for is to breed a stallion out of her and she was probably the best mare in the sale to possibly achieve that.''
At $3.6million, Nimalee is the most expensive broodmare ever sold at the Inglis Chairman's Sale.
Her dam Dezign produced a colt by So You Think last year and she is back in foal to him again.