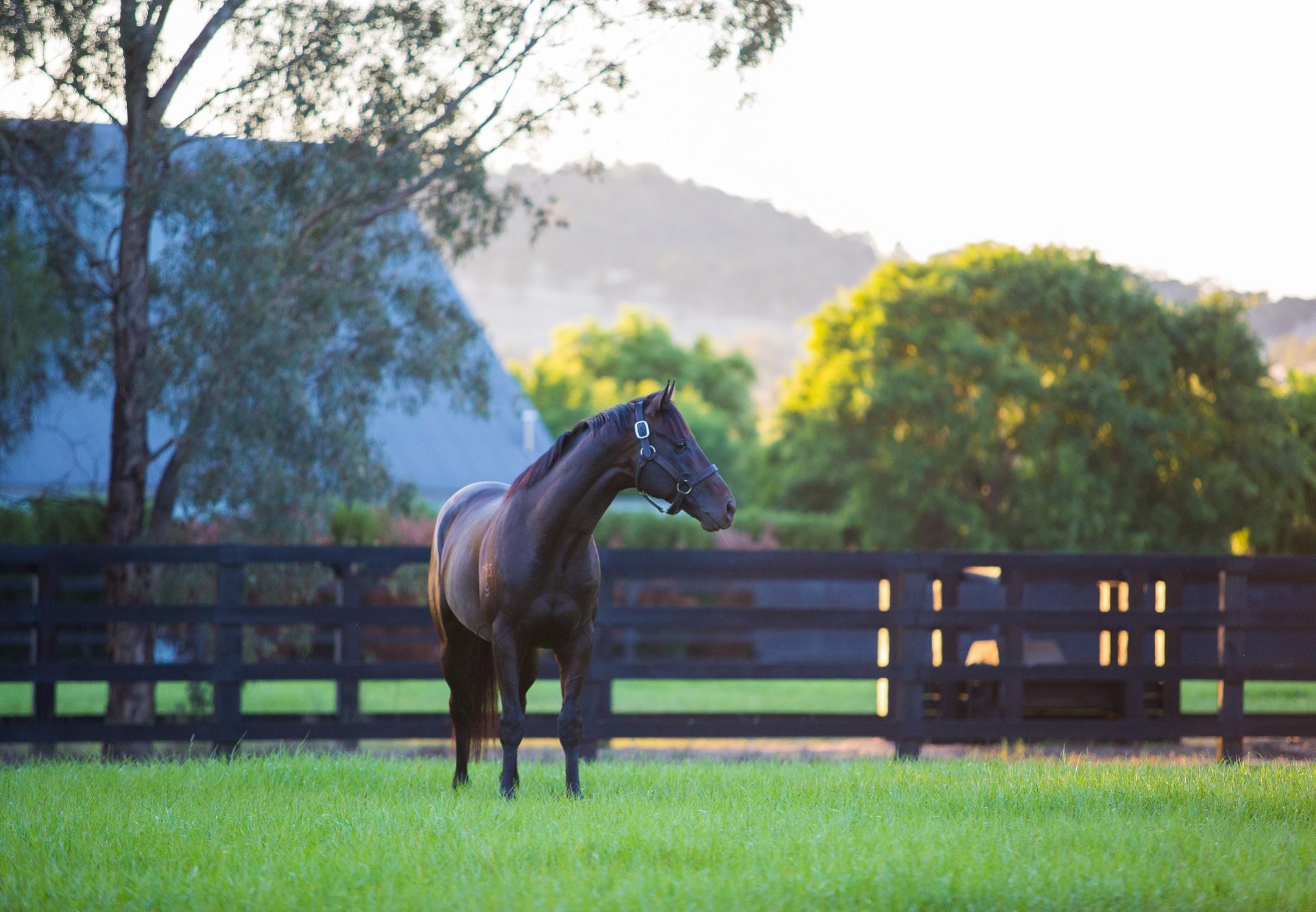 Young Coolmore Sires Leading The Way
With Justify (USA), American Pharoah (USA) and Pierro on its Australian roster, Coolmore is well-accustomed to the concept of the Triple Crown, but as things stand the global powerhouse could give that phrase a whole new meaning in Australia, with Coolmore stallions currently leading the way in each of the three major categories.
Pierro's amazing two-week run of success, including the wins of Shadow Hero in the G1 Randwick Guineas and Regal Power in the All-Star Mile, has seen him leap to the top of the General Sires table ahead of Yarraman Park's I Am Invincible and Arrowfield's Snitzel.
Rubick, meanwhile, has extended his advantage at the top of the Champion Second Season Sires Table and he looks certain to claim that title, some $6.3 million ahead of his nearest rival, Newgate's Deep Field.
And in the first season sires ranks, Pride Of Dubai has a clear lead of $370,000 with six individual winners and a stakes winner to his credit in what has been an impressive campaign from his first crop.
Looking back through the history books, the achievement of one stud sweeping the 'Triple Crown' of Australian Sires table is rare and possibly unprecedented.
It is also a vindication of Coolmore's strategy of identifying local stallion prospects from the racetrack and giving them their best opportunity at stud. All of that trio Pierro, Rubick and Pride Of Dubai, raced under different ownership before being identified and purchased by Coolmore to stand at Jerrys Plains in the Hunter Valley. Significantly all are by Champion Australian Stallions.
Pierro ascends to the top
Pierro (pictured) was always expected to ascend to the role of leading contender to be Australia's Champion Sire but his place at the top of the sire rankings has probably come quicker than most would have anticipated.
As the last horse to win Australia's 2-year-old Triple Crown of the G1 Golden Slipper S., the G1 Sires Produce S. and the G1 Champagne S., Pierro was a clear priority for Coolmore, who amid strong competition got the deal done with owner Greg Kolivos to stand the son of Lonhro.
"Everyone has been watching Pierro after what he did as a two-year-old," Coolmore Australia Principal Tom Magnier said at the time.
"He is one of the best 2-year-olds we have seen in over 30 years and he trained on to win Group 1 races as a 3-year-old. Coolmore is lucky to be standing this horse - it is very exciting for all of us involved."
Standing at $77,000 (inc GST) in his first year, Pierro got a huge book of 199 mares. Being an outcross to the Danehill (USA) line, he also attracted some top quality mares from that bloodline. To this point of his career, he has had particular success with the daughters of Redoute's Choice, with that nick producing 28 winners, including seven stakes-winners.
It was not surprising that given his own record and the quality mares he received, that he would finish as the Champion First Season Sire of 2016/17, with seven winners, including his first stakes winner Tulip.
He then went on to dominate the Second Season Sires race the following season, thanks to a weight of quality horses, something that has become his hallmark. He had 64 winners and eight of them won at stakes level as his progeny won over $8.5 million. That included his first Group 1 winners, Pinot in the G1 VRC Oaks and Levendi in the G1 Australian Derby, underlining the versatility of the stock he was producing.
With another 107 winners and eight stakes winners in 2018/19 with three crops at the track, he continued to build and while his trajectory was headed skywards, it was expected he may take a couple of more years to overhaul the big two current Australian stallions, Snitzel, a triple champion, and his chief rival I Am Invincible.
Less than two weeks ago, we did an article on the battle between these two stars for honours in 2019/20, with a reference to Pierro as a possible contender but an amazing run of results have changed the shape of the Sires' race.
Tracking Lonhro
It wasn't so much of a surprise to Coolmore, which has been tracking his trajectory closely, in particular in comparison to his own sire Lonhro, who was the Australia champion in 2010/11.
"Pierro has firmly established himself as one of the very best sires in the Australian racing. Thanks mainly to Shadow Hero and Regal Power in recent weeks he is now the leading sire in Australia, which has put him in a position to emulate his own sire by claiming Champion Sire honours in his fourth season with runners," Coolmore's Marketing and Nominations Tom Moore said.
"In fact, at the exact same stage of their respective stud careers Pierro and Lonhro have both notched 21 Stakes winners. What sets Pierro apart however, is his ability to consistently produce elite performers.
"He has produced 15 Group winners and seven individual Group 1 winners, compared to Lonhro's nine Group winners and one Group 1 winner at the same stage of his career. Additionally, over 30 per cent of Pierro's stakes winners are Group 1 winners and all of his eight stakes winners this season are Group winners, which are incredible statistics."
If Pierro was to maintain his lead all the way to the end of the season, at 10, he would become the youngest Champion Sire in Australia since barnmate Fastnet Rock in 2011/12, who did it at the same age. In recent times, only Redoute's Choice, who was nine when crowned champion in 2005/06, was younger.
Rubick streets away
Speaking of young sires, Rubick looks well poised to be challenging those top sires in the near future after an amazing second season. The Everest victory of Yes Yes Yes (incidentally owned by Coolmore and set to feature on its roster in 2020), has certainly helped, but even without the $6.6 million earned through that win, he would still be contending for leading Second Season Sire.
The son of Encosta De Lago has had 32 winners in all in his second season, including Yes Yes Yes and Rubisaki at stakes level.
Pride of the freshmen
That a Coolmore sire leads the way in the first season sires battle is not surprising, but it is perhaps a little unexpected that it is Pride Of Dubai that is on top rather than Vancouver.
Both were elite 2-year-olds, with Pride Of Dubai, a son of Street Cry (Ire), a G1 Blue Diamond winner and Vancouver, who is by Medaglia D'Oro (USA) victorious in the G1 Golden Slipper S. Vancouver was the probably top seed from when they both went to stud in 2016, each standing at $55,000, with Vancouver covering 200 mares compared to Pride of Dubai with 177.
Vancouver's progeny certainly proved more desirable at last year's yearling sales, with an average of $180,886 and a median of $125,000, while Pride Of Dubai averaged $108,732, with a median of $80,000.
But so far on the track, it has been the progeny of Pride Of Dubai that have been getting the job done. He has the advantage of having had more runners to the track, 18 in all (compared to Vancouver's 11), but he has also had a consistent flow of winners, with six in Australia and one in New Zealand.
Tanker set the scene with an early-season stakes win, while he has also had two stake placegetters in Bella Nipotina and Dubai Star.
Vancouver, who has had two winners, as well as three stakes-placegetters, is also well placed to be a top sire in Australian in the near future.
When you consider that American Pharoah's first Australian crop hits the tracks in 2020/21 and Justify's two seasons later, plus the wealth of other emerging world class stallions it has on its Australian roster, Coolmore is well-poised to continue its domination for some years to come.
Courtesy of TDN AusNZ, Bren O'Brien, 19th March