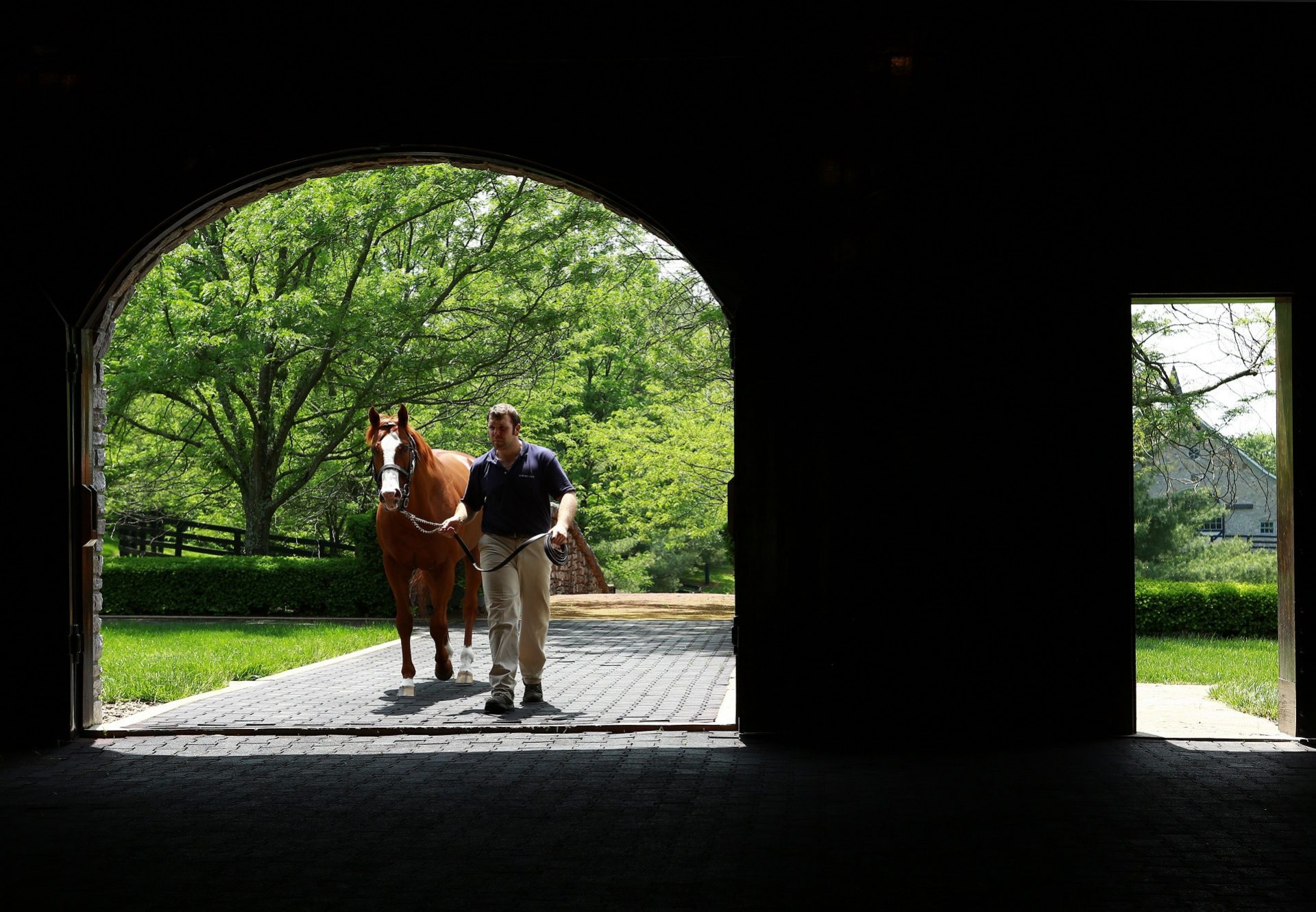 Munnings Charges Toward Top of Sire Standings
Bonny South's closing kick in the March 21 Twinspires.com Fair Ground Oaks (G2) was an especially rewarding performance. Juddmonte Farms' homebred 3-year-old daughter of Munnings claimed her first black-type victory, became her dam's first stakes winner, and propelled her sire toward the top of the North American sire rankings by becoming his fifth graded stakes winner of the year.
Standing at Ashford Stud, Munnings is co-ranked as the leading sire by number of graded stakes winners through April 14 alongside 2019 leading sire Into Mischief; three-time leading sire Tapit; and Uncle Mo, who led his sire class through their freshman, second-crop, and third-crop years by both progeny earnings and number of stakes winners.
Kimari, Ten Broeck Farm's 3-year-old daughter by Munnings, reinforced her sire's standing among North America's best April 4 in the Purple Martin Stakes where she became his seventh black-type winner so far this year. Munnings is currently the second-leading sire in this category behind Spendthrift Farm's Into Mischief.
Munnings' ascent as a stallion mirrors the form he showed as a multiple graded stakes-winning racehorse.
The chestnut son of Speightstown often stalked his opponents at the racetrack, comfortable most frequently with jockey John Velazquez to wait for an opportunity to strike. When an opening appeared along the rail or between horses, he moved decisively and powerfully.
Entering stud at $12,500, Munnings started his stud career in a stalking position. He finished his freshman year ranked fourth in his sire class by progeny earnings behind Lane's End's Quality Road, WinStar Farm's Super Saver, and his Ashford barnmate Lookin At Lucky.

Munnings' progeny found opportunities to shine during the sire's second-crop year in 2015, and he pulled away to lead his sire class by progeny earnings ($4,967,721), number of winners (69), number of black-type winners (11), and number of black-type wins (17).
"When we saw what he achieved with his first crop runners, getting the likes of Om, El Deal, I'm a Chatterbox, and Catalina Red, we quickly realized we had a serious sire on our hands," said Adrian Mansergh-Wallace with Ashford. "All of those mentioned have won graded stakes races at 4 years old or older. The one thing they all have in common is that they are durable."
Munnings kept his momentum through his third-crop sire year, dropping to the runner-up spot behind Quality Road by progeny earnings but continuing as the sire class leader by number of black-type winners with 10 and black-type wins with 17.
During Munning's third-crop year, Juddmonte's team had seen enough in the young sire—affordable with a $25,000 stud fee—to consider him a suitable mate for its Tapit mare Touch the Star.
"We wanted to put some speed into a mare that didn't show that much on the racetrack," said Garrett O'Rourke, the manager of Prince Khalid Abdullah's North American operation. "At that point I was starting to latch onto Munnings producing fast horses at a very respectable rate, but (he) had not quite come on the national radar yet. He had not yet had the opportunity with really nice mares, and we were not ready to spend the money on Touch the Star until we could see what she was throwing. The filly we got was Bonny South, who made us think we had better do this again and got another nice filly. It was actually odd that we went back a third time before we knew whether we had a runner and got a lovely colt as well."
As young stallions move beyond their third-crop of racing age, they graduate into a broader, tougher level of competition. Their progeny must stand out against the entire population of North America's leading sires. True to form, Munnings played the role of stalker among the leading U.S. and Canadian sires in 2018 when he broke into the top 50 by progeny earnings but was co-ranked as the 25th-leading sire by number of black-type winners with nine. By the end of 2019, the stallion's rank rose to 23rd by progeny earnings and was ranked 15th by number of stakes winners with 11.
Munnings continues his rapid ascent. After the first quarter of the year, he was the ninth-leading North American sire with $2,438,806 in progeny earnings.
"Even when he went through the inevitable lull with his third and fourth crop, he still had great representation as his best early runners helped keep Munnings at the forefront of breeders' imagination, which has helped in keeping his support consistent over the last five years," said Mansergh-Wallace.
Munnings' five graded stakes winners so far this year include two of the highest-ranked points earners for the Road to the Kentucky Oaks—Bonny South and Finite, who are ranked second with 100 points and third with 80 points on the leaderboard, respectively. Finite, bred by Winchell Thoroughbreds out of the Tapit stakes winner Remit, is a multiple graded stakes winner. She won the Golden Rod Stakes (G2) at 2 and this year has captured the Silverbulletday Stakes and Rachel Alexandra Stakes Presented by Fasig-Tipton (G2). Finite gave a solid performance in the Fair Grounds Oaks against Bonny South but faded in deep stretch to finish fourth.
"Any time you are getting the level of breeders like Juddmonte, the Winchells, Stonestreet, and Live Oak among many others then you know Munnings is well on his way to being a marquee stallion," said Mansergh-Wallace. "He has the numbers on his side in his upcoming crops and he has the quality of mares and support from the leading breeders in the business."
Munnings' other graded winner this year are Venetian Harbor, who won the Las Virgenes Stakes (G2) and ranks 20th on the Kentucky Oaks leaderboard; Warrior's Charge, who won the Razorback Handicap (G3); and Phat Man, who won the Fred W. Hooper Stakes (G3) and was runner-up in the Gulfstream Park Mile Stakes (G2).
While all this year's graded winners have excelled on dirt, Munnings' 39 (6%) lifetime black-type winners to date include seven stakes winners on turf. Om, who is 8 and retired to stud this year at Harris Farms in California, is Munnings' most accomplished turf stakes winner so far, with four graded stakes wins and earnings of more than $1.35 million. Munnings also sired Proforma, who set a 6 1/2-furlong track record of 1:15.72 at Kentucky Downs in the Kentucky Downs Turf Sprint Stakes Presented by Coca-Cola (G3T), and multiple graded stakes winner Free Rose, who set a Keeneland track record of 1:51.42 for 1 1/8 miles on the grass.
Kimari excels on both dirt and turf, having won last year's Bolton Landing Stakes at Saratoga Race Course and Indian Summer Stakes at Keeneland on the grass and now proven herself on a sloppy dirt track at Oaklawn Park in the Purple Martin. She has shone on the international stage as well with a runner-up finish in the 2019 Queen Mary Stakes (G2) at Royal Ascot.
Munnings has been represented by three other course record holders on turf and dirt, as well, including Om (5 1/2 furlongs on turf in 1:02.24 at Churchill Downs), Catalina Red (seven furlongs on dirt in 1:21.40 at Tampa Bay Downs), and Wings Locked Up (five furlongs on turf in :55.09 at Remington Park).
"You can see he is a very versatile sire," said Mansergh-Wallace. "Like his consistent sire Speightstown, Munnings can get you runners on all surfaces."
O'Rourke said he's actually surprised by how alike the three Munnings foals out of Touch the Star are to one another.
"It is not often that you breed to something that gives you such similar production," he said. "I can think back to when we had Razyana and just kept breeding her to Danzig because we kept getting good foals out of her and they kept on performing, so why change?"
Razyana's foals by Danzig included renowned international sire Danehill, grade 2 winner Eagle Eyed, and grade/group 3 winners Harpia and Shibboleth.
"Oftentimes you breed once and get one type of individual and then when you do it three times more you get something different every time," O'Rourke continued. "That has not been the case with Touch the Star and Munnings. We have gotten consistently similar and good-looking individuals. They have a lovely blend. The mare is a scopey Tapit with a lot of length and a lot of leg. They are classic, two-turn-looking horses that are very correct. If you drew up the model of what you'd want from the cross, they are what you'd want."
Besides consistency in frame and conformation, Mansergh-Wallace said Munnings is passing along an all-important will to win.
"If anyone needs a reminder of their toughness all one needs to do is watch the replay of Warrior's Charge in this year's Razorback. He was never going to lose that race," he said.
Just as he did as a racehorse, Munnings has now closed the gap with other prominent North American sires and possesses the tenacity to stay there for years to come.
Courtesy of The Bloodhorse, 16th April