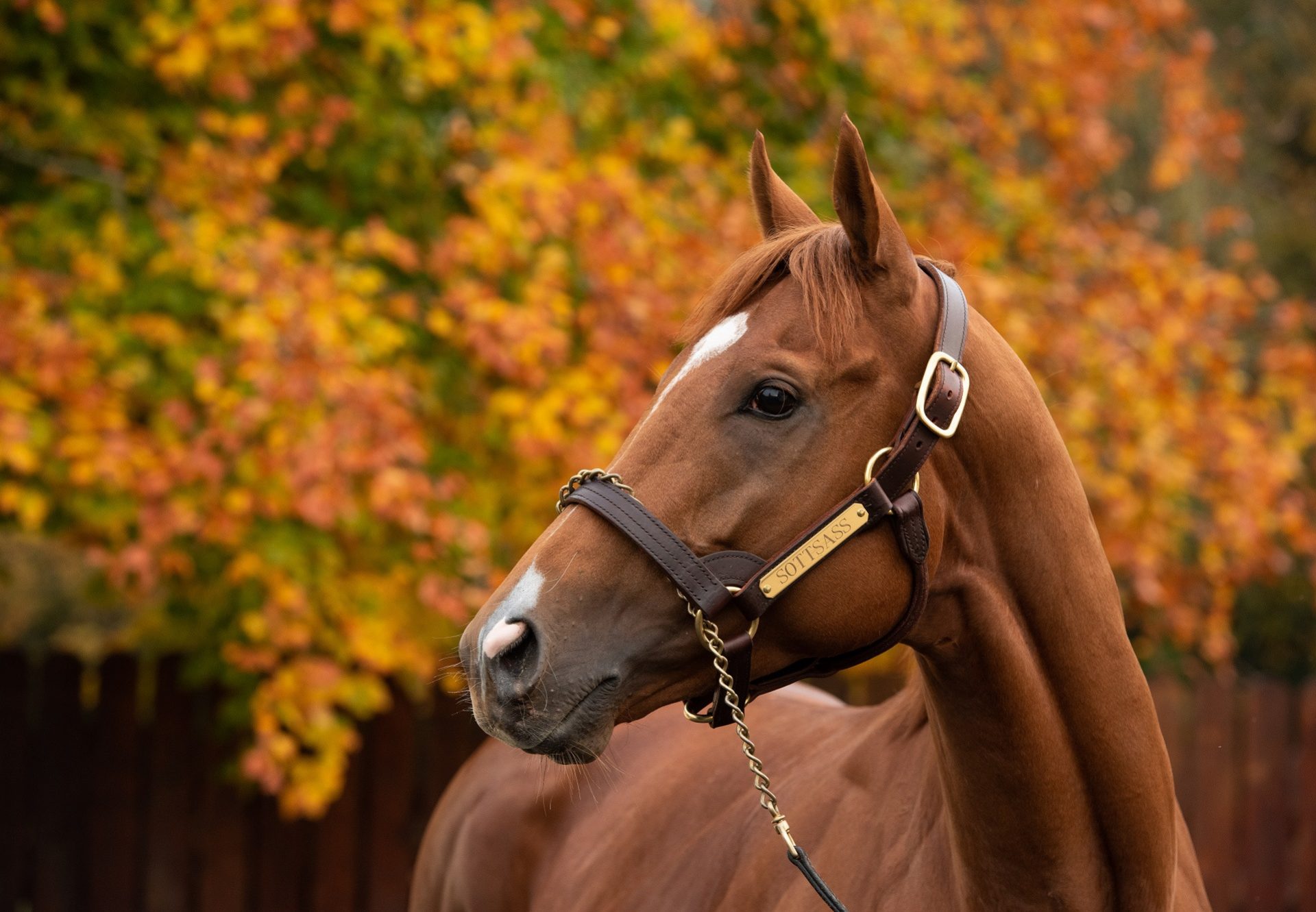 Quality Book Of Mares for New Recruit Sottsass
Coolmore is compiling a star-studded first book of mares for Sottsass, as befits the winner of the Gr.1 Prix du Jockey Club, Gr.1 Prix Ganay and Gr.1 Prix de l'Arc de Triomphe.
The chesnut has an interesting pedigree. His sire Siyouni has evidently contributed plenty of high-class genes, being a Gr.1 winner himself and sire of five other top-flight winners, but his dam Starlet's Sister, though only placed on the track, has out- performed herself in the paddocks. The Galileo full-sister to Gr.3 winner Leo's Starlet, out of the Gr.1-placed Green Tune mare Premiere Creation, has also produced the seven-time US Gr.1 winner Sistercharlie (Myboycharlie) and the Gr.3 winner and Gr.1 runner-up My Sister Nat (Acclamation).
Sottsass, like so many these days, has Northern Dancer in all four quarters of his pedigree, in his case within six generations and through Nureyev and his relative Sadler's Wells, plus Danzig and Nijinsky. He also has two fourth-generation crosses of Mr Prospector's son Miswaki on the distaff side of his pedigree and two other lines of Mr Prospector in the fifth generation.
Needless to say, Sottsass's racing owner, Peter Brant's White Birch Farm, will be supporting him with a high-class group of at least 18 mares this spring, including multiple Graded winner Toinette (Scat Daddy), the Gr.1-placed Thais (Rio De La Plata), the Classic-placed Gr.2 winner Fleeting's dam Azafata (Motivator), dual Gr.1 winner Bright Sky's half-sister Bonanza Creek (Anabaa), multiple Gr.1 winner Uni's dam Unaided(Dansili), Gr.3 winner Noblesse Oblige (Myboycharlie), triple Group winner Morando's dam Moranda (Indian Rocket) and Justlookdontouch (Galileo), a three-parts-sister to Gr.1 winners Islington, Mountain High and Greek Dance and herself the dam of triple Listed winner Abingdon.
The horse's breeder, Haras des Monceaux, is also sending him a range of mares which includes Ectot's and Most Improved's relative Avocate (Lawman) and their half-sister After Dawn (Invincible Spirit), plus a half-sister to Gr.1 winner Etoile (Siyouni) in the shape of Arletta (Lethal Force), and Group winner Sacred Life's dam Knyazhna (Montjeu).
Among the mares booked to Sottsass are many with high- class form themselves, and they include the Classic-placed Listed winner Baine (Country Reel), dam of the Italian Classic-placed Qatar Dream; Gr.3 winner Havant (Halling), a half-sister to Gr.1 winner Leadership; the Gr.2-placed Lagrandecatherine (Pedro The Great); the Gr.2-placed Lavender Lane (Shamardal), a half- sister to Gr.2 winner Sumbal; the Gr.1 Belmont Oaks winner Minorette (Smart Strike), a half-sister to Gr.1 winner Eishin Apollon and Gr.2 winner Master Of Hounds; the Gr.1 Japanese Oaks and dual Gr.2 winner Nuovo Record (Heart's Cry) and the German Champion Two-Year-Old Filly and Gr.3 winner Whispering Angel (Soldier Hollow).
Among those who have already produced high-class runners are Altezza Reale (King's Best), dam of Gr.3 winner Atom Hearth Mother and Listed winner Al Siq; Inez (Dai Jin), dam of the Gr.3 winner and twice Gr.1-placed Spectre (Siyouni); Isobel Baillie (Lomitas), the Stakes-placed dam of Gr.2 winner Isabella Sings and Stakes winners Alaura Michele and Tobacco Road; and Recambe (Cape Cross), dam of the six-time Gr.1 winner Laurens (Siyouni).
The many other well-related mares booked to Sottsass include Equivocal (Street Cry), a half-sister to the five-time Group winner Criticism; Landikusic (Dansili), a full-sister to Gr.1 winner Zoffany and half-sister to Group winners Rostropovich and Wilshire Boulevard; Leah (Le Havre), a half-sister to Gr.1 winner Duncan and Gr.2 winners Samuel and Gretchen; Mooney Ridge (Indian Ridge), a half-sister to Gr.1 winners Sea Of Class, Charity Line and Final Score; Prance (Danehill Dancer), a half-sister to Classic winner Magna Grecia and Gr.1 Dewhurst Stakes winner St Mark's Basilica (Siyouni); Scarlet And Gold (Peintre Celebre), a half-sister to Gr.1 winner and leading sire Le Havre and Serisette (High Chaparral), a full-sister to the dual Australian Gr.1 winner Contributer.
Courtesy of the EBN, Saturday 16th January 2021