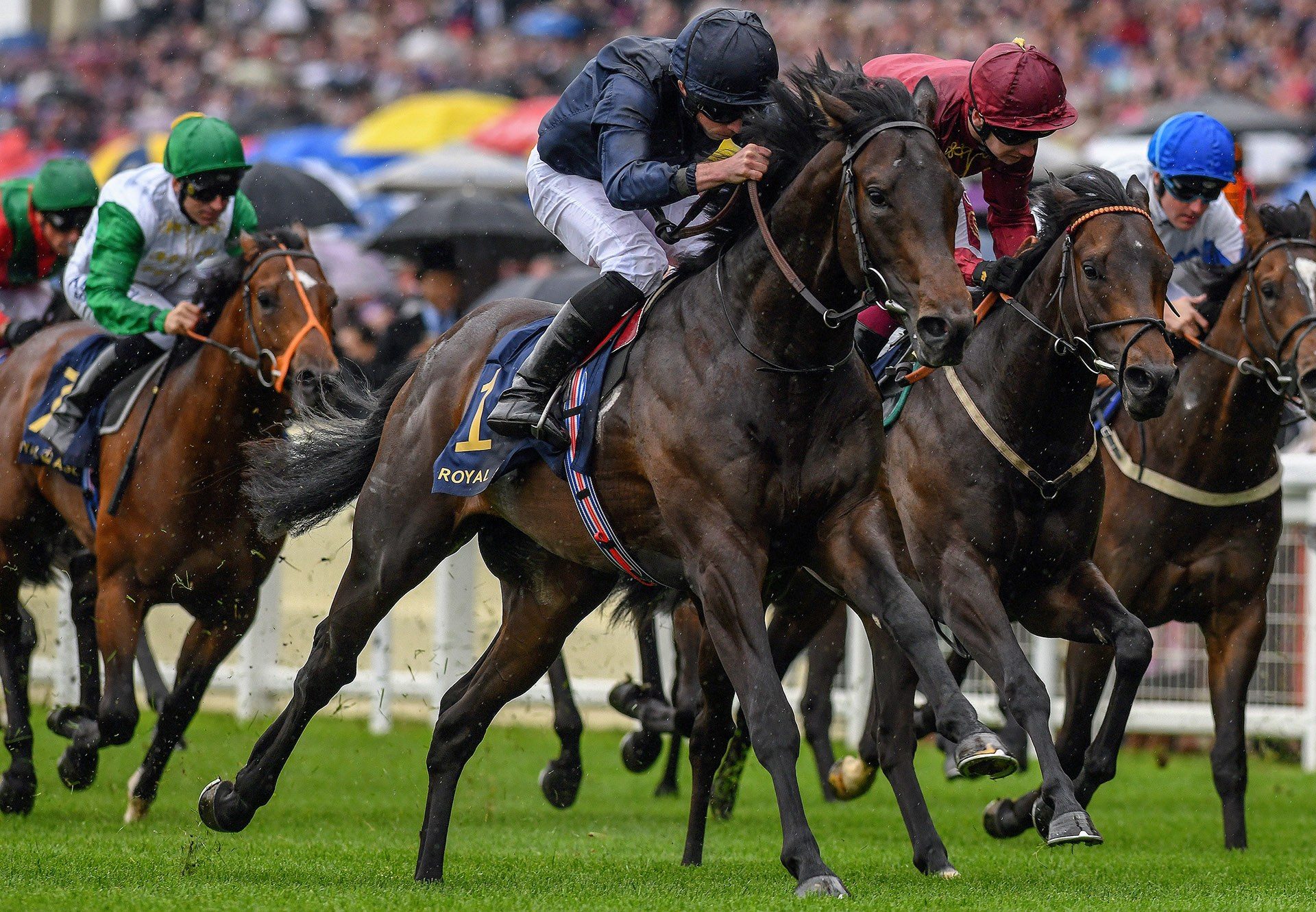 Taking Stock: Coolmore Investment In Scat Daddy Sons Paying Off
Sid Fernando

North American pedigrees have to be reckoned with wherever racing is conducted at the highest levels, and that includes on turf in Japan (Sunday Silence) and Australasia (Danehill) in addition to Europe (Sadler's Wells). No one knows this better than the Coolmore partners, headed by maestro John Magnier, who learned this lesson decades ago on American buying sprees as the then-junior partner of Robert Sangster and Magnier's father-in-law Vincent O'Brien. The Irish group made a killing buying and breeding offspring of GI Kentucky Derby and GI Preakness S. winner Northern Dancer. He sired–among many other icons–the great Coolmore stallion Sadler's Wells, in turn the sire of Coolmore's more recent giants Galileo (Ire) and the late Montjeu (Ire).
Coolmore is the ultimate stallion maker, and it is invested to this day in various lines of Northern Dancer aside from Sadler's Wells that have far-reaching influence. Protonico, the sire of Medina Spirit, is by Coolmore's late Giant's Causeway, the best racing son of Storm Cat. Bred in Kentucky by Coolmore partners, Giant's Causeway began his stud career in Ireland and was later transferred to its Kentucky satellite at Ashford Stud. Giant's Causeway is also the sire of Cowboy Cal, the broodmare sire of last weekend's Preakness S. winner Rombauer, and his influence is particularly profound through his Kentucky-bred son Shamardal, who has a boatload of promising young sons at stud in Europe, particularly for Godolphin.
The Irish-headquartered operation is back at it again with another Storm Cat-line horse in Caravaggio (Scat Daddy), a young American-bred freshman stallion based this year at Coolmore America. So far through a young juvenile season, Caravaggio is making a loud noise in Europe with six winners to his credit, suggesting that he could have a mammoth year at the rate he's clicking, and his start at stud is reminiscent of No Nay Never, another son of Scat Daddy. A Group 1 winner in Europe, No Nay Never began his racing career at Keeneland and is now one of the most exciting young sires in Europe, standing in Ireland for €125,000 after starting out for €20,000 in 2015 and reaching a reported €175,000 in 2020.
Hours before Rombauer won the first Lasix-free Preakness in decades, Caravaggio got his fifth winner, The Entertainer (Ire), a colt trained by Aidan O'Brien for the Coolmore partners, and the day after the Baltimore Classic, the muscular grey stallion got his sixth winner when Andreas Vesalius (Ire) and Silver Surfer (GB) ran one-two in a Naas maiden race for trainers Joseph and Donnacha O'Brien, respectively. He's the young horse everyone is talking about in Europe the same way they did of No Nay Never, and he's available this year for $25,000 to American breeders after three seasons in Ireland, where he entered stud for €35,000 (the equivalent of about $40,000 at the time) in 2018.
To say that Coolmore is heavily invested in the Scat Daddy line, both here and in Ireland, is an understatement. Aside from Caravaggio, Coolmore also stands Scat Daddy's sons Justify and Mendelssohn at Ashford. The latter, a Grade I winner who was campaigned in England, Ireland, Dubai, and the U.S., was purchased by Coolmore for a sale-topping $3 million at Keeneland September in 2016, while the 2018 Triple Crown winner was purchased from WinStar and partners for a reported valuation of $75 million.
In Ireland, Coolmore stands the aforementioned No Nay Never, a Group 1 winner at two, and the Kentucky-bred 2-year-old Group 1 winner Sioux Nation (Scat Daddy). Also standing there are No Nay Never's sons Ten Sovereigns (Ire), a Group 1 winner at two and three; and Arizona (Ire), a Group 2 winner who was twice Group 1-placed–all at two. Coolmore obviously moved Caravaggio from Ireland to Kentucky to give him new life for his fourth year at stud and to make way for Ten Sovereigns, because the two are essentially the same type: Caravaggio was also a Group 1 winner at two and three and a specialist sprinter like Ten Sovereigns.
The best European-raced offspring of Scat Daddy tended to be, like the aforementioned horses, 2-year-old Group winners and/or fast sprinters–think of G1 King's Stand S. and Prix Morny winner Lady Aurelia, too–and this is very much a sire-line trait for this branch of Northern Dancer that started with Storm Bird. In fact, each stallion in the sequence to Caravaggio that goes from Storm Bird/Storm Cat/Hennessy/Johannesburg/Scat Daddy was a Group 1 or Grade I winner at two.
Note also in this sire-line sequence that every horse from Storm Bird to Caravaggio stood at Ashford except for Overbrook's Storm Cat, but he was one that Coolmore identified early as a breed-shaper and jumped on board to use. One of his last remaining sons at stud, Tale of the Cat, still stands at Ashford.
In contrast to Europe, the best Scat Daddys in North America stayed farther, and Justify is obviously the supreme example. He also was unraced at two, and his forte was dirt; therefore, Coolmore now has all the racing aptitudes covered in Kentucky with the Scat Daddy sires Justify (Triple Crown winner, dirt); Mendelssohn (Grade l winner on turf at two at a mile, Grade ll winner and multiple Grade l-placed on dirt at three at up to a mile and a quarter); and Caravaggio (Group 1 winner on turf at two and three in sprints).
Caravaggio's return to Kentucky was something of a homecoming because he was bred by Coolmore America director of sales Charlie O'Connor (Petaluma Bloodstock) in partnership with his father-in-law's Windmill Manor Farms. The specialist sprinter was produced from the Holy Bull black-type winner Mekko Hotke and has a thoroughly American pedigree on the dam's side, but he was campaigned by the Coolmore partners on the turf in Europe, where he won seven of 10 starts and was undefeated in four starts at two for Aidan O'Brien at Ballydoyle.
His early promise now, coupled with the rise of No Nay Never, bodes well for the other sons and grandsons of Scat Daddy that Coolmore has in the pipeline. Coolmore lost Scat Daddy, a dirt horse, in December of 2015 at age 11, a few months before the stallion was to cover mares at a career-high fee of $100,000. He'd entered stud for $30,000 in 2008 and had dropped to a low of $10,000 in his fourth year at stud before his first crop took off, and in hindsight his loss has been massive for Coolmore, which has double-downed on his sons. And the gamble appears to paying off.
The global operation dominates the European Classics with its Galileos but is one European-based entity that has a healthy dose of respect for American-raced horses. Scat Daddy, for example, had no issues siring high-quality runners in Europe, and Coolmore has never thumbed its nose at dirt performers. Magnier's son M.V. Magnier put it unequivocally a few years back when he said, "My grandfather M. V. O'Brien built Ballydoyle off the backs of some brilliant American Classic horses. In Justify and American Pharoah we now have two all-time greats, so we couldn't be more optimistic about the future."
Perhaps this is the reason that Coolmore is the leading racing stable and stud operation in Europe and, arguably, the world.
Sid Fernando is president and CEO of Werk Thoroughbred Consultants, Inc., originator of the Werk Nick Rating and eNicks.
Courtesy of the TDN, 21st May 2021